NRC Handelsblad 13 November 2014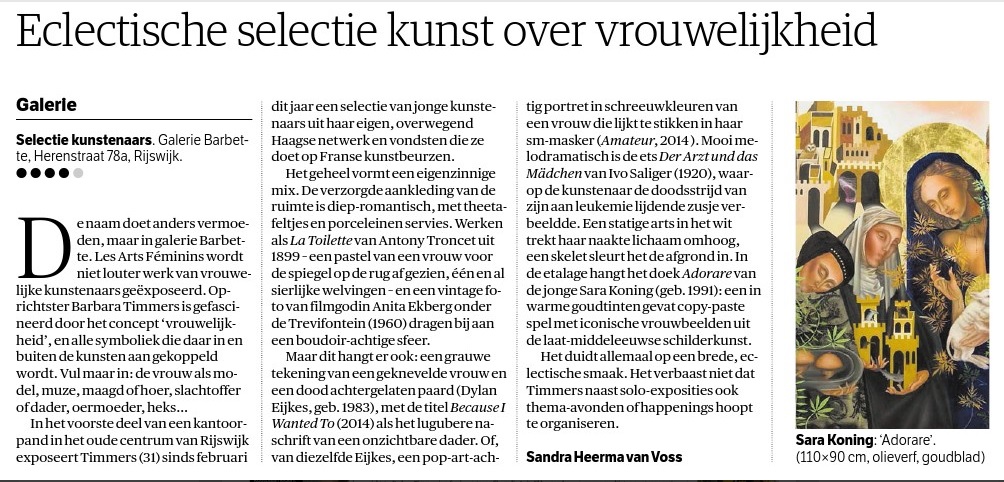 Read English translation:
The name may suggest otherwise, but at gallery Barbette, Les Arts Feminins you won't solely find work by the hand of female artists. Founder Barbara Timmers is fascinated by the concept of 'femininity' and all symbolicism linked to it, in art and elsewhere. The woman as rolemodel, muse, virgin or whore, victim or perpetrator, earth mother, witch… 

In the front area of an office building in the old centre of Rijswijk Timmers exhibits a selection of young artists from her own, predominantly The Hague network, but also treasures found at French auction houses. This amounts to an idiosyncratic mix. 

The immaculate decoration of the gallery space is deeply romantic, with little tea tables and porcelain china. Works like La Toilette by Antony Tronect dating from 1899 – a pastel drawing of a woman seated in front of a mirror, shown from the back, displaying her graceful curves – and a vintage photo of silver screen Goddess Anita Ekberg in the Trevifontein (1960) contribute to a boudoir-esque mood.

But this you'll also find at Barbette's: a gloomy drawing of a woman tied down and a dead horse, left behind (Dylan Eijkes, birthdate: 1983) with the title Because I wanted To (2014) like a trace of a dark invisible perpetrator. Or, also by Eijkes, a pop-art-like portrait in screaming colors of a woman who seems to be choking in her SM mask (Amateur, 2014). Beautifully melodramatic is the etching Der Artz und das Madchen by Ivo Saliger (1920), in which the artist portrayed the life struggle of his from leukemia suffering little sister. A stately doctor dressed in white is pulling her naked body up, while a skeleton drags her into the abyss. On display in the window is Adorare, a painting by young artist Sara Koning (birthdate 1991): a warm, gold tinted copy-paste play with iconic images of female martyrs that recalls late medieval art.

It all amounts to a broad, eclectic taste. It is no surprise that besides (solo) exhibits, Timmers also hopes to organize theme nights and happenings.